Are you looking for a tool to identify those Early Talent employees who are going to bring about positive change in your business?
What is Prosocial?
Prosocial is the antidote to antisocial. It describes personal attributes that bring about positive changes by looking at the bigger picture and making better decisions for us all. 
The Prosocial assessment is the first tool to help early talent recruiters focus on the social characteristics that deliver positive behaviours in the workplace. It's built around the evidence-based concept that identifies prosocial traits, which are linked to improved proactivity and engagement in workforces and sustainable ways of working.

To meet the complex challenges that contemporary organisations will face, recruiters want to attract and identify candidates that have prosocial attributes. These go beyond motivating colleagues and team members. They extend to being resilient enough to deal with rapid change and well-equipped to make decisions that are inclusive and socially and environmentally responsible.
The online assessment uses specific prompts and questions to gain prosocial information from potential candidates. Two reports are generated to allow the recruiter and the candidate to comprehend and review the results quickly. Plus, the secure data portal provides easy access to human resources professionals looking to manage the assessments. 
Why Prosocial?
The Prosocial assessment is a cost-effective solution to help early talent recruiters streamline and improve their processes. It filters large numbers of candidates, making it possible to identify those with desirable attributes that are harder to pinpoint from standard assessments and interviews alone. This is a unique tool that has been built and shaped specifically with the early talent market in mind to assess potential and cultural fit.
Attract Specific Candidates
Businesses that use Prosocial are signalling to prospective employees that inclusive environments and prosocial behaviours matter to them. Early talent candidates are attracted to companies with a socially responsible outlook. Most early talent candidates consider a company's background and values when applying.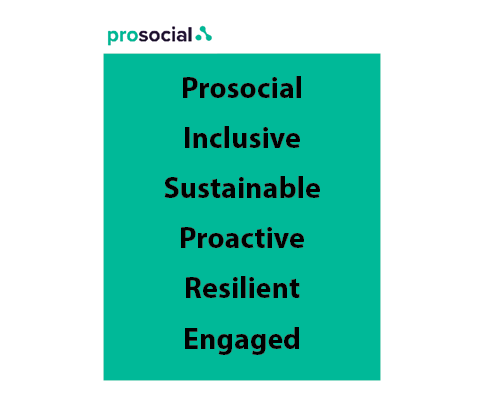 Ethical management and shared values are two crucial criteria for top candidates who are considering the next step in their career. Prosocial behaviours help businesses invest in and implement best practices and build teams of individuals with shared values. The benefits are felt long after the recruitment process, as these factors lead to increased job satisfaction.
Build Your Teams Strategically
Identifying a candidate's strengths, especially prosocial ones, helps direct the interview process with potential follow-up questions. It also speeds up the onboarding process. Managers will have an increased understanding of the role a new team member can play, as well as the gaps that need to be filled.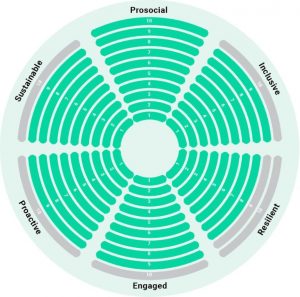 Initiating cultural change in a business can require significant amounts of time and effort. Hiring prosocial candidates can positively transform teams, departments, and the entire company. Fitting people with the right attributes into pivotal roles and leadership positions creates positive shifts in job satisfaction, workplace atmosphere and output. 
Prosocial FAQs
How long does a Prosocial assessment take?
The online platform presents respondents with around 200 items to consider. The process usually takes around 20 to 25 minutes.
Is Prosocial based on science?
Yes, Prosocial comes from research and development work by Professor Stephen A. Woods, a leading authority on personality assessment. Scientific research and three large-scale case studies were used to design and evaluate the effectiveness of the assessment and its results.
Who is Prosocial for? 
Prosocial is a tool for businesses and early talent or graduate/apprentice recruiters. It can help any company looking to demonstrate its socially responsible and inclusive approach and attract candidates with shared values. 
How can I use Prosocial in my next recruitment project?
Please contact us to discuss how Prosocial can work for you. 
Can we help you?
Call Debs Edmondson on 07885 999080
Contact Us